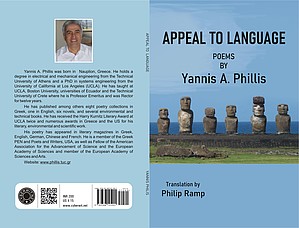 New!
Appeal to Language,
Poems by Yannis Phillis
Find below recent reviews and comments:
[...] By then I learned that only through silence are the hardest stories told" as in Silence, and "Science tells us one day everything will end" are the best catch lines ever. So philosophical and yet so true!!!
This book are more like his memoirs he experienced through his life which include more of nature, philosophy and war. Different topics and different stories to narrate!!! Readers, you will love all of them.
Yannis, we wish that your book inspires many more Writers like me to write differently and travels far and wide and garners all the recognition and fame. We look forward to your next book, as well. I will be happy to write a review for that one tooJ
Review by Shubhaangi Kundalkar, Author – Justaju-In Search of Life
https://www.cyberwit.net/authors/yannis-phillis
https://www.amazon.co.uk/dp/9390202191
---
"I am always deeply impressed
with poets-scientists –
a two-edged sword for humanity's defense."
Herman Berlandt, Editor "Mother Earth International" on Yannis Phillis' poetry.
Besides his research activity with the publication of over 100 scientific papers and four technical books, Professor Yannis A. Phillis is an award-winning writer in Greece and the US, having published six poetry collections, five novels, and three environmental books.
Yannis Phillis: Short video message addressed to the readers of the journal "Indus Streams"
Biography (in Greek):
"Nikos Yannakakis: I am a Hagiographer," Region of Crete, Chania, 2015.
Novels (in Greek):
NEW! "Days in Oriente," Enastron, Athens, 2016. A novel
The archipelago Enastron, 2012.
Vindication, Melani Publications, 2011.
A Drop in the Torrent, SeaburnPublications, New York, 2006.
The Camp, Ellinika Grammata, Athens, 2000.
Beyond the Symplegades, Exantas, Athnens, 1991.
Poetry (in Greek):
Afternoon Metaphors, Enastron, Athens, 2014 (in Greek).
West of Homer, Melani Publications, 2009.
Elpenor - A Cartographer without Memory, Kaktos, 2005.
NoviceOdysseus, SalonicaPress, NewYork, 2005 (in English).
Novice Odysseus, Metaixmio, Athens, 2004.
Sisyphus, Exantas, Athens, 1998.
Zarathustra and the Five Vespers, Boukoumanis Publidations, 1985.
Environmental books:
Il crepuscolo del pianeta terra, BIOS, 1996 (in Italian).
The Twilight of the Human Species, Exantas, Athens, 1994. Environmental book.
The Last Gasp of Planet Earth, Boukoumanis Publications, 1984. A book about the environmental problems of our planet and the arms race. The book is now in its 3d edition. The book was extensively revised to reflect the latest environmental developments and published by Enastron, Athens, 2017.
Yannis Phillis is a member of the following literary associations: Poets and Writers (USA), Hellenic P.E.N. Club and the European Art Center.